DCH Tustin Acura Is One of Top 100 Best Dealerships To Work For In The Country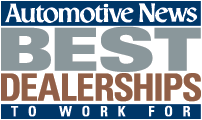 Tustin, CA, July 10, 2012 - DCH Tustin Acura earned the distinction of being named one of Automotive News' Best Dealerships To Work For. Automotive News partnered with Best Companies Group to identify the top 100 dealerships in the U.S. and Canada that have excelled in creating quality workplaces for employees. The program measured workplace satisfaction through a confidential survey of employers and employees.
Only 10 dealerships in California were chosen for this honor after evaluation of the data gathered by the Automotive News.
"We are thrilled to learn that our company has been recognized for this distinction. To know that our employees enjoy their work here in taking care of our customer needs is gratifying. Our ultimate objective here is to satisfy our customers. But we can only achieve that, if we have happy employees", said Dick Hsu, General Manager of DCH Tustin Acura." We appreciate the positive feedback from our employees through this survey and we feel confident that we can deliver our promises to our customers".
The Tustin dealership has been the recipient of the Acura's highest honor of Dealership of Distinction for 9 times and was chosen by the readers of the Orange County Register as the Best Car Dealership in O. C. in 2011. It also was recognized as the Business of the Year in 2011 from the Tustin Chamber of Commerce for its community contributions. On top of that, it won the Top Dealership Award from Women Certified Company and the Quality Service Award from AAA in 2012.
Tustin Acura was the first dealership established in Orange County in 1986 in selling the Acura models when the first luxury Japanese brand was introduced to the United States.
The list of the 2012 Best Dealerships To Work For was published in the July 9 issue of Automotive News. The top dealerships will be ranked and revealed at the Best Dealerships To Work For program and gala awards dinner on Oct. 17, 2012 at the Ritz-Carlton Chicago.
For complete information about the Best Dealerships To Work For from Automotive News visit
www.autonews.com/bestdealerships