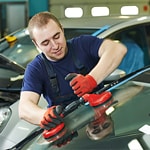 If you intend to perform windshield chip repairs with an over-the-counter DIY kit, how do you prepare your windshield? Much as our DCH Tustin Acura team would like for you to visit our service department, we understand that sometimes you have to take matters into your own hands. Here are the raw facts.
Preparing for DIY Windshield Chip Repairs
First, determine if DIY methods are even worth it. If you have more than three windshield chips or if you have any windshield chip that exceeds 6 inches in width or length, DIY windshield repairs won't help you.
Read More