Discover Professionalism and Convenience with Our Service Center in Tustin
At DCH Tustin Acura, we serve Tustin and surrounding areas by providing exceptional maintenance, authentic Acura parts, and friendly customer service. We offer a one-stop shop for all your routine maintenance and parts needs, saving you time and money in the process. Our team is dedicated to your satisfaction and raises the bar for your routine maintenance.
Stay Up to Date with Your Recommended Service Schedule
Routine maintenance is the only way to keep your vehicle running smoothly and avoid preventable damage. We help our customers stay up to date with their factory-recommended service schedules by providing all the services needed. By routinely servicing your vehicle, you can maximize its longevity and retain a high resale value for your vehicle.
Some of the top services we provide include:
Oil Change: Changing your oil is one of the most frequent and essential services your vehicle requires. We recommend following the intervals in your owner's manual, but most vehicles need an oil change every 5,000 to 7,5000 miles or every six months, whichever comes first. Regular oil changes will keep your engine in excellent mechanical condition.
Tire Rotations: You can increase the lifespan of your tires and avoid select tires wearing out quicker than others by rotating your tires with us. We can rotate your tires to match your Acura model's specific guidelines, which can improve everything from fuel economy to ride comfort.
Brake Repair: Your brakes are crucial for your vehicle's performance and safety. Our expert technicians can inspect and service your vehicle's entire braking system and provide genuine Acura replacements to ensure your peace of mind.
Battery Service: With your car battery powering all the electronics in your car, you will want to ensure it is functioning properly. If you notice dim lights or trouble starting your vehicle, you may need battery service. Our technicians can clean and check connections for your battery and provide a high-quality replacement if needed.
Save Time and Schedule Service Online
We make it easy for our customers to schedule service by offering an online scheduling tool. While scheduling an appointment over the phone is always an option, many of our customers prefer to schedule online since they can complete the entire process in as little as a minute or two and can make an appointment between tasks.
As a first-time customer, you can follow intuitive steps to provide information about your vehicle, the services needed, transportation plans, preferred appointment time, and contact information. You can schedule an appointment online even faster as a returning customer. 
Save with Our Affordable Parts and Services
Our service team provides competitive rates for parts and labor, and we help our customers save even more by offering service financing and special offers. When choosing our service specials, you will discover unique opportunities to save on routine maintenance. We update our service deals often to ensure they stay fresh and relevant throughout the year. 
Our parts specials let you save on high-quality parts that will match your Acura model perfectly. We update these deals often to meet the needs of our customers. You may find savings for windshield wipers in spring or high-quality tires in summer.   
We understand that keeping up with your routine maintenance can add up quickly, and that's why we offer service financing. With financing through sunbit, you find affordable monthly payments for auto service. With no hard credit check and a 90-percent approval rate, you can find the best payment plan that suits your lifestyle and budget.
Facilities
Our facilities are designed and built to service your Acura conveniently and efficiently. When you bring your Acura into our state of the art Service center, you know your vehicle is being serviced with only Original Acura Parts and Acura approved equipment.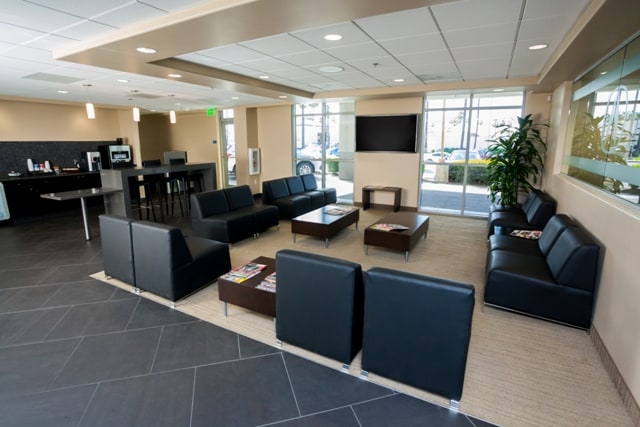 Amenities
Client lounges have the best amenities and facilities for your visit. A clean, comfortable, and functional lounge is one of the many ways we like to add value to your experience.
Free Hand Car Wash
Fresh Ground Gourment Coffee, Tea, Hot Chocolate, and Refreshments
HD Television
WiFi
Work Stations
Children Play Areas
Loaner Vehicles
Saturday Service Available