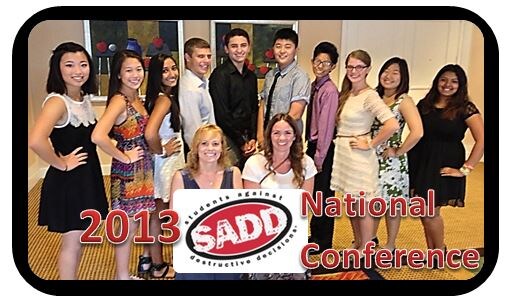 Sponsored and supported by DCH Tustin Acura, sends 10 students to attended the  SADD National Conference.

Hear what they had to say about it in their own words!


Below you will find Quotes and below that the Letters of individual experiences and thank you's from local students who attended the 2013 SADD
(Students Against Destructive Decisions)
National Conference.


---
Front Left to Right: Rochelle Shirkanbaigi of DCH Tustin Acura and Melissa C. 
Students Left to Right: Michelle G., Kristen F., Milonee D., Brandon F., Jonathan C., Kiyoung H., Jonathan M., Lauren B., Olivia L., Karina B.
(Last names removed for student privacy)
---
Student Quotes:

"The national display of SADD passionate and supportive environment is the best part of going to a SADD Conference. Hearing from the other students across the nation on how they get the message across, fundraising, and make SADD an exciting club were something all of us that attended could bring back home. ...I hope that future members know that SADD is much larger than something you can put on your college resume, it is definitely a lifestyle choice that should not be limited to just teens but all other demographics." -Olivia L.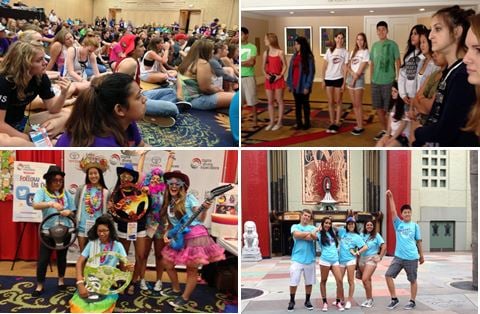 "I like many other students want to be able to make a positive difference in our peers... SADD stands for Students Against Destructive Decisions. This can be a ton of different things that can negatively change our lives. SADD National Conference, was truly a growing experience for me. What I learned about myself as an individual was truly more than I could learn in a classroom environment. I think all students should be exposed to something like the SADD National Conference. They will grow more in a week than they will in one school year." -Jonathan C.
"SADD conference I will never forget it. I will treasure the experience long into the future. SADD is just so much more than just distracted driving, it is also about drugs, bulling, teen suicide, and so much more. Overall it was amazing, I found out a lot about myself. SADD is just a wonderful thing to support and I hope others will do the same." - Kiyoung H.
"When you hear "conference", you don't think 400+ amazing student leaders from all over the nation. You don't think life changing speakers and workshops. You don't think fun or acceptance or family. But that's exactly what SADD National Conference was ...a place where I can belong and be myself. If I could, I would go back and relive every single moment again. The lessons I learned and the memories I made are things I will carry with me for the rest of my life." -Milonee D.
"The SADD National Conference not only allowed me to make new friends, but it completely changed my life. The guest speakers were phenomenal. The courage to speak about their personal experiences and testimonies was brave, as they touched the hearts of so many people. It influenced me and hundreds of others to really make that right choice in our lives and in sharing to the lives of others. ...the conference wouldn't have been complete without the people that attended. From all over the country, all around my age, striving for the same goal I was. Keeping in touch with them still, I have made friendships that I would have never made otherwise, and that is something truly remarkable. " -Kristen F.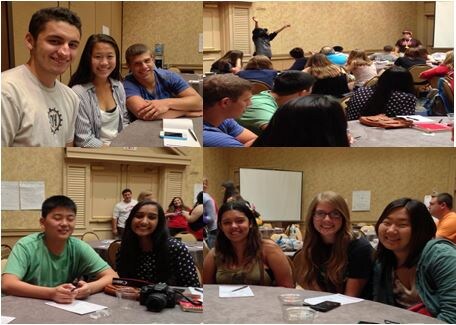 "During conference, listening to occurrences and leading causes in accidents, where one thinks of their actions after lives have been dealt. the same statements running over and over again. 'If only I knew where my actions led me to before it happened.' ...After conference, new ideas are running through my mind which can not only use to help expand the club but to help our chapter have a deeper understanding of our clubs visual and vocal forms that reach through to the people, the same way it reached out to me." -Jonathan M.
"I would definitely encourage future SADD members to attend this conference, it was an influential and amazing experience. From the various workshops to the amazing speakers that presented before us, I was completely blown away.  The speakers spoke of past experiences of members of their families being involved with drugs, alcohol, even bullying, problems that teens deal with in their everyday lives. The various workshops were all very interesting and added a different twist to what I previously believed. ...now I have many more ideas to bring back to the club for a much more successful school year. I can't wait to see what this year has in store!" -Brandon F.

I am so fortunate for the experiences I've been blessed with. I've matured, and grown up with SADD and the members of SADD. Joining SADD would not be the same experience without DCH Auto Group or DCH Tustin Acura supporting us. Tey have supported my school and my chapter from when I first came as a freshman and now when I will be leaving as a senior. Wow, senior year. I joined the California SADD SLC (Student Leadership Counsel) to represent some of the issues I knew some chapters were facing in my area, and to connect with the other great chapters of California. I plan on teaming up with other chapters some around my area, some farther to help unify California SADD chapters. - Michelle G.