Now Offering Free Pick-Up & Delivery

Regular Maintenance, Extraordinary Service
Cars break. It's a universal theme to car ownership. With an amalgam of moving parts, high operating temperatures, and the daily grind of commuting, failure at some point is inevitable.
Regular, quality service can help prevent or delay failure. At Tustin Acura we provide a wide variety of services to help keep your vehicle healthy and prevent headaches for you.
Common Services
Tire Rotations: Tires wear in specific patterns over time. Having some spots worn more than others can affect performance and ride quality. Shifting tire positions can promote more even wearing and improve fuel efficiency, comfort and tire longevity.
Brake Repair: What good is moving if you can't stop? Regular brake maintenance is critical to the safety of you and other drivers. Brake pads, lines, and master cylinders can wear out, leaving you with little to no braking capability. Having your brake system checked regularly can help prevent disaster.
Oil Change: Oil is the lifeblood of your engine. Failing to change it at appropriate times or running your engine without it could result in poor performance or, at worst, damage to engine components. Scheduled oil changes keep your engine running smoothly and efficiently.
Factory Recalls: In the event of a recall, our technicians receive the training and parts to rectify the problem. Just bring your vehicle in and we will take care of the rest.
Other Regular Maintenance:Each vehicle has specific needs at specific mileage. Our service staff has the know-how and experience to take care of it. Pro tip: keep an eye on the service specials page for discounts and coupons on regular maintenance!
Qualified Acura Technicians
Our service technicians are trained specifically for Acura maintenance. Whether its regular service or more critical repairs, they know how to take care of your Acura. They provide quality, timely service to ensure the satisfaction of every customer.
Genuine Acura Parts
For those interested in doing their own work under the hood, we carry genuine OEM Acura parts. If you have a job in mind, we can find the right part for you. Call our service center for questions.
Quality Assurance
At the end of the day, your satisfaction is our highest concern. We strive to make sure every customer leaves happy with service they can count on. We serve the areas of Tustin, Cerritos, Mission Viejo, Anaheim, Costa Mesa, Orange County, Riverside, and Santa Ana with pride. If your Acura needs service, give us a call at (855) 485-7277 or visit us at 9 Auto Center Drive Tustin, CA 92782. We will have you on your way in no time!
---
Facilities
Our facilities are designed and built to service your Acura conveniently and efficiently. When you bring your Acura into our state of the art Service center, you know your vehicle is being serviced with only Original Acura Parts and Acura approved equipment.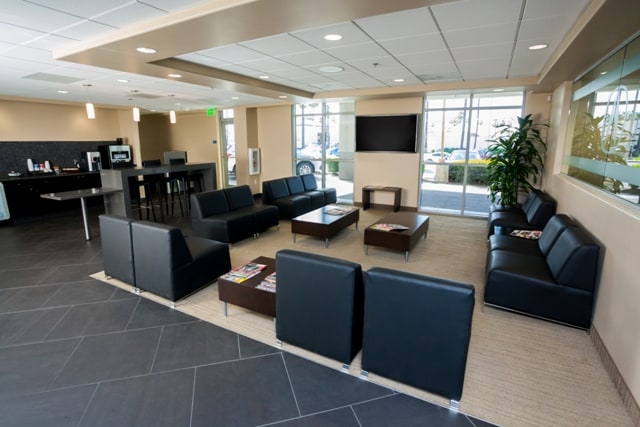 ---
Amenities
Client lounges have the best amenities and facilities for your visit. A clean, comfortable, and functional lounge is one of the many ways we like to add value to your experience.
Free Hand Car Wash

Fresh Ground Gourmet Coffee's, Tea, or Hot Chocolate, and refreshments
HD Television
WiFi
Work stations
Children play areas
Loaner Vehicles
Saturday Service Available
---
Your privacy is important to us.
DCH Tustin Acura takes your privacy seriously and does not rent or sell your personal information to third parties without your consent.
Read our privacy policy.
Service Hours
Monday

7:30 AM to 6:30 PM

Tuesday

7:30 AM to 6:30 PM

Wednesday

7:30 AM to 6:30 PM

Thursday

7:30 AM to 6:30 PM

Friday

7:30 AM to 6:30 PM

Saturday

8:00 AM to 5:00 PM

Sunday

Closed (Drop-off Available)
See All Department Hours
Service Dept. Hours
Monday

7:30 AM to 6:30 PM

Tuesday

7:30 AM to 6:30 PM

Wednesday

7:30 AM to 6:30 PM

Thursday

7:30 AM to 6:30 PM

Friday

7:30 AM to 6:30 PM

Saturday

8:00 AM to 5:00 PM

Sunday

Closed (Drop-off Available)
Quick Links
Make an Inquiry